Description
LimeSurvey – The No.1 of open source survey tools
LimeSurvey is the tool to use for your online surveys.
Whether you are conducting simple questionnaires with just a couple of questions or advanced assessments with conditionals and quota management, LimeSurvey has got you covered.
LimeSurvey is 100% open source and will always be transparently developed.
We can help you reach your goals.
---
Features tailored to your every need.
Explore the vast possibilities you have to create your survey professionally with LimeSurvey.
Starting with the inbuilt template editor through to advanced scripting abilities inside of the question editor and the mighty expression manager.
However, if some feature you need is missing, you may also submit a feature request.
---
USAGE
---
Market research
The online survey tool for market research.
Market research is one of the focal tasks for any organisation when trying to gain an edge over competitors. Why is that? Information attained with market research processes delivers valuable insights into customer behaviour and target markets. This is where LimeSurvey steps in and helps you concentrate on the results, not on the processes.
With LimeSurvey you do not need to put a lot of effort into survey creation. Rather use that energy for your results or for survey design. You can choose from 28 different question types, including ranking, long/short text, 5 point and 10 point array, or plain multiple choice.
Once you have created a question master you can copy it and save it for later or reuse it in the same survey.
This saves time through effective design.
---
Market research made more effective
It has never been easier to conduct market research. Take LimeSurvey's inbuilt quota management, for example. Just set quotas to the region of your participants, so you may only get answers of the specific region you are researching. Or try to filter by income, even a lock by IP address is possible.
Get results faster
LimeSurvey empowers you to reduce your surveys to selected participants.
Just put in your participants' email addresses and invite them comfortably with our participant management.
Even reminding your participants is possible with Limesurvey.
Set custom attributes for your participants and use them in your surveys. With the central participant panel in Limesurvey it has never been easier to manage lots and lots of participants. Even silent redirects after a survey are possible thanks to custom attributes.
---
---
Employee surveys
The online survey tool for employee surveys
Employees are the engine of a company, the latter stands and falls with employee motivation, efficency and productivity. There's no value in a great customer base if the employees don't follow. Thus, it is essential to make sure employees are appreciated, motivated and their well being is taken care of. Hence, the core mission is to find out how your employees score on these different yet equally important dimensions. A great way to achieve this is by simply asking them.
LimeSurvey offers you a tool to create a questionnaire for your employees.
Capture the opinion of your employees anonymously and honestly. Our built-in methods for anonymisation and evaluation ensure an effective analysis of the ideas and the honest criticism of your employees. A simple and effective way to analyse employee satisfaction.
---
Easy handling due to the built-in email functionality
In just a few steps you have created a participant database from your telephone list, which you can easily import. Using a comfortable participant management system, the survey can be carried out 100% anonymously.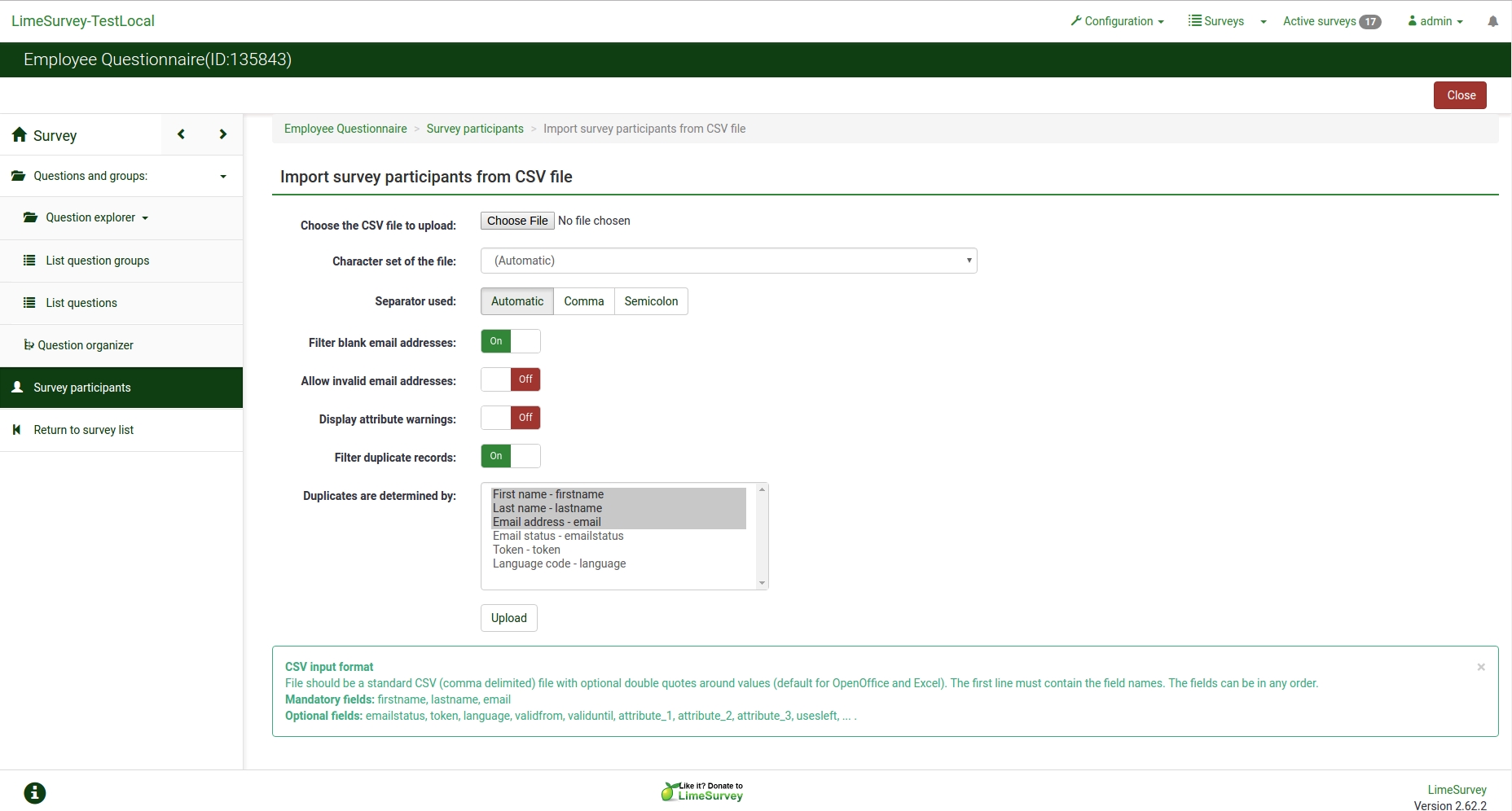 Increase employee satisfaction
Measure the satisfaction of your employees with short questionnaires. Increase motivation with an employee suggestion panel for new ideas. Please contact our sales department for further information.
---
LimeSurvey for universities
Studies, Research, Administration
For universities we offer a mature and robust environment to run secure assessments and surveys – be it for a large-scale study or rather for the purpose of knowledge review, or maybe even a survey for the faculty members. LimeSurvey provides all the necessary tools for effective and expedient use.
---
For a better tomorrow
We at Limesurvey support education wherever we can. Universities get an attractive discount on all offered packages.
Additionally, we offer interested students the opportunity to familiarise themselves with the code. As an open source software LimeSurvey is ideally suited to be modified by the students. Many students have participated and contributed to the LimeSurve software in the past which we value greatly.
In your own datacentre with professional support
Use our community edition and provide your students with the tool they need to create surveys simple and fast. Our elaborate user administration makes it easy for you to manage many users at the same time. Effortlessly, keep your versions up-to-date at all times with our premium packages and get access to special add-on features.
Customer feedback
Customer reviews with Limesurvey
Your customers are your capital which makes it essential for you to find out their likes and desires. Customer feedback is one of the most important factors in establishing a successul business as it will help you gain insights into customer satisfaction, potential for product or service improvements as well as retaining customers by facilitating the creation of great customer experiences.
LimeSurvey supports you in undertaking this contacting process. Create a questionnaire in order to empower your customers to voice their honest and direct opinion to you. After all, the customer is king.
---
Easily create a customer survey
LimeSurvey enables you to prepare your individualised customer survey. You may choose from more than 28 different question types, conduct the survey in several countries at once and draw on more than 80 languages. You may invite your customers straight from within the LimeSurvey software and increase your return rate due to an efficient invitation management system. Existing surveys can be copied and used repeatedly in order to keep an eye on customer satisfaction.
---
Direct questions – direct answers
In order to improve your fulfillment rate, use LimeSurvey to remind invited participants, if necessary multiple times, from within the tool to take your survey. LimeSurvey's mass mailing function allows you to do it comfortably with just a few clicks.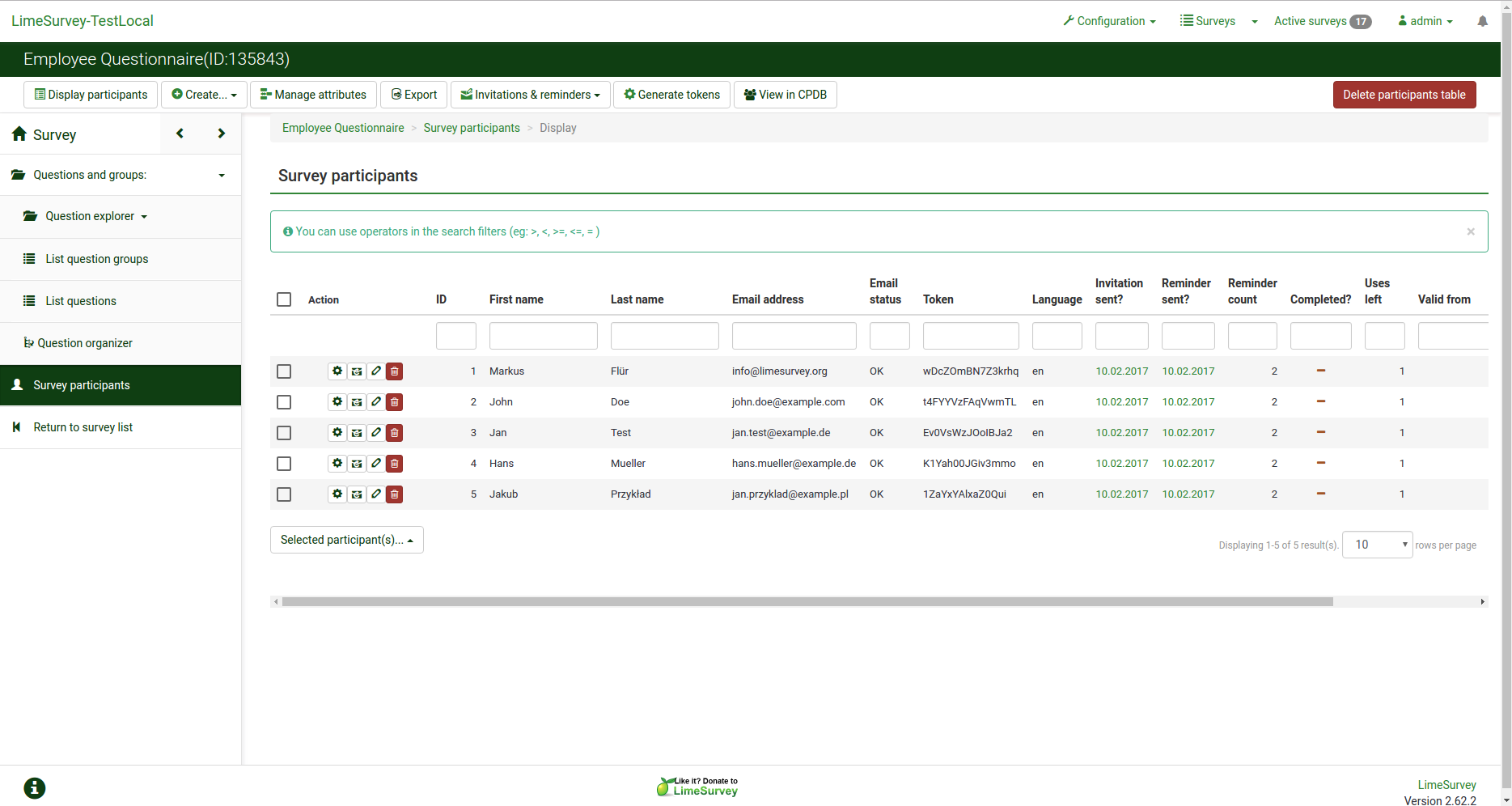 Mature analysis tools
Analyse your customers' needs and adjust your surveys by using branching and skip-logic to achieve the highest possible relevance of questions for your customers.
---